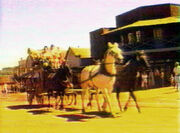 Episode 197 - "Back to the Summer, Part 1"
Edit
Dennis Willis and Steven Kirk (aka Mr. Fusion) chose quite the location for their annual Summer Movie Preview Show. Yes, Hill Valley, circa 1885, as seen in Universal's
Back To The Future Part III
. During the one-hour special, the boys rode the train that Doc Brown uses to push the DeLorean, drank sasparillas from the actual saloon, and even fended off a nasty feller who accuses them of "gettin' his daughter in a family way..."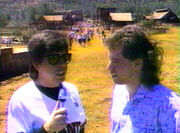 Ad blocker interference detected!
Wikia is a free-to-use site that makes money from advertising. We have a modified experience for viewers using ad blockers

Wikia is not accessible if you've made further modifications. Remove the custom ad blocker rule(s) and the page will load as expected.