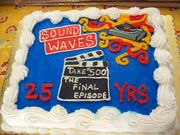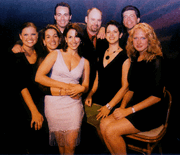 1981-83 - D&D Rock Show
Edit
The D&D Rock Show was a live, weekly cable request music program, broadcast on Pacifica Community Television, and hosted by Dennis Willis and Deane Walker. Although named after the teenaged hosts, Deane eventually left the show. 
D&D was the precurser to Soundwaves in many ways, and allowed viewers to request popular music as the local cable company did not provide MTV yet. 
The show ran for 65 episodes, all of which are believed to be lost, from December 20, 1981 to March 23, 1983.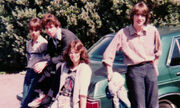 1983 - Soundwaves Premieres
Edit
1985 - 100th Episode, Who Shot Gerold?
Edit
1986 - Soundwaves Canceled
Edit
No episodes were produced in 1987.
1988 - Soundwaves Returns 
Edit
1989 - Censorship Controversy, 30-Hour Marathon
Edit
1990 - Back to the Future Part III set visit
Edit
Among the highlights was Soundwaves No.197 - Back to the Summer, Part 1, which aired June, 1990. The 1-hour episode featured a preview of the major summer movies, and was shot on the "Hill Valley 1885" set from Back to the Future Part III, in Jamestown, CA.
CONTINUE READING
1991 - Forever Young
Edit
1992 - Soundwaves 6-week Summer run
Edit
1993 - Soundwaves Goes Hollywood
Edit
1994 - Relaunch with Format change, Host ensemble
Edit
1997 - Lost 2pac Footage
Edit
1999 - 10th annual Soundwaves Christmas
Edit
Write the second section of your page here.
2001 - Universal Studios Hollywood, 9/11
Edit
2003 - Soundwaves/20, Added stations
Edit
2005 - Jon Anderson
Edit
2006 - WonderCon
Edit
2007 - Problems with Music Labels
Edit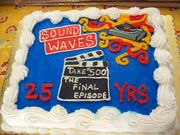 2008 - 25th and Final Season, 500th Episode
Edit
Soundwaves returns on July 9, 2008 after teasing a major announcement. On that show, #490 ("The Big Announcement"), Dennis Willis and Steven Kirk announce in Los Angeles that because of mounting problems dealing with music labels and an overall sense of accomplishment, that this 11-episode run will be Soundwaves' last, culminating with their 500th show. Joe McCaffrey and Moira Szasz return for the Pacifica portion of the show and react to the news, offering that the next ten weeks will offer a long look back, complete with reunions and surprises. 
The Los Angeles segments were directed by award-winning filmmaker James Kerwin (Yesterday Was a Lie), while the Pacifica segments were helmed by Wayne Hess, who would oversee the bulk of the coming shows. 
2009 - WAVE Awards, 20th Soundwaves Christmas
Edit
WAVE AWARDS
Soundwaves' final season wins two Western Access Visual Excellence awards: #499 - The Interview Show (Talk Show/Pro), and #500 - Wrap Party (Entertainment/Variety Programming/Pro)
SOUNDWAVES CHRISTMAS
The 20th edition of Soundwaves Christmas airs live throughout the Bay Area. The show features an anniversary retrospective and a tribute to longtime set designer Alan Coppola , who passed away February 9, 2009 from Amyotrophic lateral sclerosis (ALS). 
The 2011 edition of Soundwaves Christmas wins the 2012 WAVE Award for Community Event.  
Soundwaves' official Facebook page teases a year-long 30th anniversary celebration. 
The 2012 edition of Soundwaves Christmas wins four WAVE Awards on October 26, 2013 in the categories of Entertainment, Music Programming, Station/Program Promo and Community Programming.
The 2013 edition of Soundwaves Christmas airs in 1.5 million homes throughout the Bay Area, as well as Sacramento and Redding.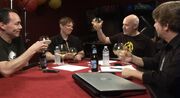 All items (1)